Swim and Survive
Swim and Survive is a comprehensive swimming and water safety initiative of Royal Life Saving that seeks to increase the swimming and water safety skills of all Australian children in order to prevent drowning and increase participation in safe aquatic activity.
Learn to swim, swimming lessons and infant aquatics are all terms commonly used across the aquatic industry for programs that seek to build swimming skills. Swim and Survive is all of these, but most importantly it ensures that the essential components of personal survival and water safety are provided, in addition to a process of developing strong and effective swimming technique.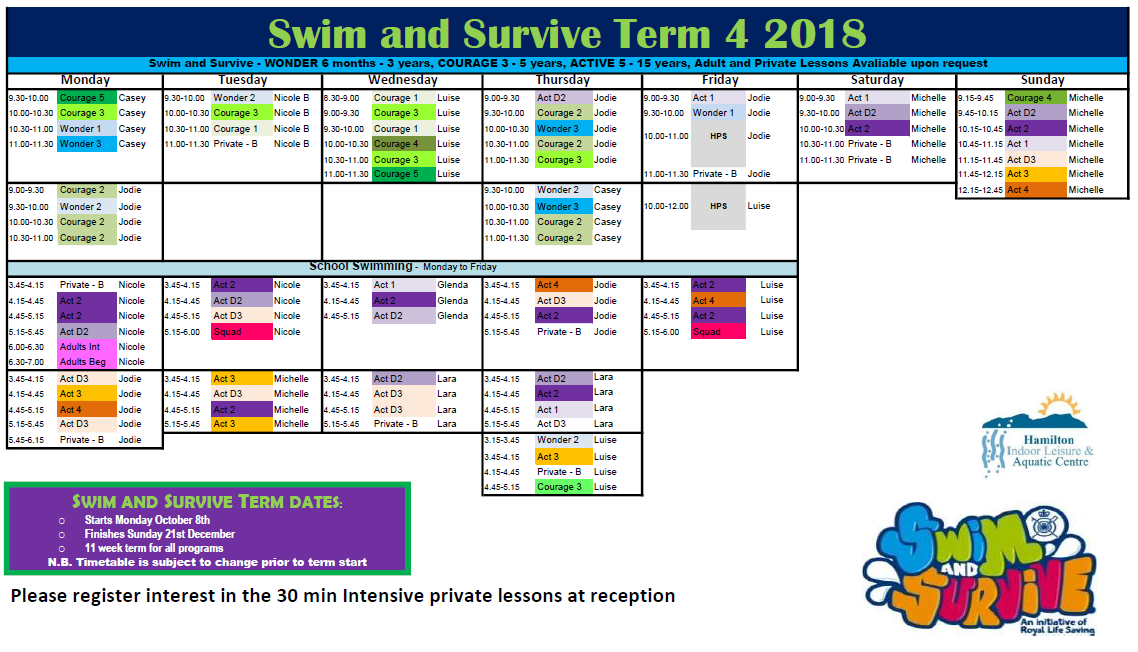 Swim and Survive
Wonder
Wonder is a variety of programs appropriate for the infant or toddler's developmental stage from 6 months to 3 years. Classes have a safe and structured multi-sensory environment, considered for the child together with the parent to have fun, play games, sing songs and educate through aquatic play to gradually build up confidence and independence whilst gently exploring the excitement of being in water.
Swim and Survive
Courage
Courage is a pre learn to swim program for children aged 3 – 5 years, designed to aid the transition from parent-child lessons to independent swimming through further developing water familiarisation and water safety skills by fun water-activities and games.
Swim and Survive
Active
Active provides a broad and balanced swimming and water safety program ensuring children aged 5 – 14 years will develop a sound knowledge of how to be safe when in, on and around water whilst practicing specific skills in swimming, personal survival and rescue.
Lessons are conducted under the guidelines of the Royal Life Saving Society Australia. The Swim and Survive program is delivered by qualified AUSTSWIM – Teachers of Swimming and Water Safety where each child is assessed then allocated into the appropriate swim-school level.
Private Lessons
During the Swim and Survive term, private swim tuition will be offered to coincide with the timetabled program. Instructor availability will determine places offered.  Private lessons are offered for the Swim and Survive Active program (ages 5 – 14 years) and for adults. These will be conducted by an AUSTSWIM qualified instructor.
Adult Lessons
Adult swim classes are available for beginners who want to learn to swim or intermediate classes are offered for those who wish to improve their stroke technique. Classes have a maximum of 6 participants and are held in a relaxed, fun and patient atmosphere, thereby allowing participants to be able to reach their individual goals at their own pace.
Private adult tuition can be arranged. All private tuition is subject to instructor availability.
Subscribe to our newsletter